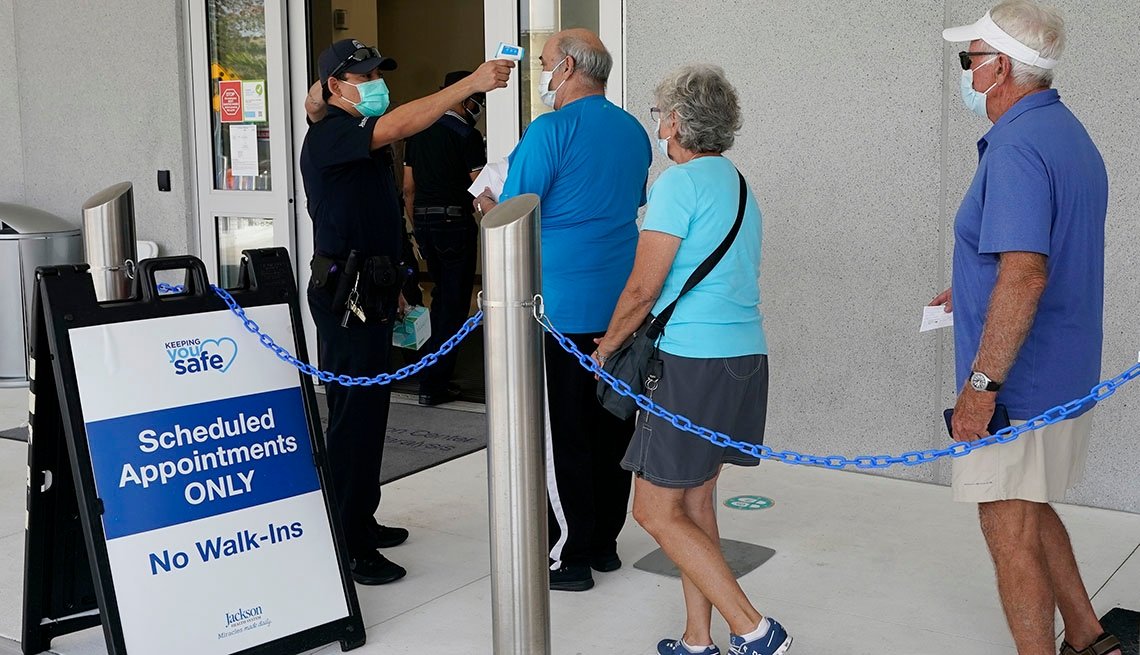 MARTA LAVANDIER/THE ASSOCIATED PRESS
Shots are now available to all Americans age 16 and older
All Americans 12 and older are now eligible to get a COVID-19 vaccine, ending a monthslong patchwork of eligibility differences that added confusion to an already bumpy vaccine rollout. Federal and state officials have prioritized older adults in their vaccine plans, but the definition of an older adult varied by state. In some cases age and eligibility cutoffs were different at the county level.
Vaccine availability has improved in recent weeks as states get more shipments and as more local and federal mass vaccination sites open. Many pharmacies, mass vaccination sites and community health centers have started offering walk-in appointments. More than 337 million vaccine doses had been shipped across the country as of May 12. And more than 153 million Americans have received at least one dose, including 84 percent of people age 65 and older. More than 117 million people are fully vaccinated in the U.S.
Availability was also bolstered after federal officials authorized states to resume administering the Johnson & Johnson vaccine for people age 18 and up. In mid-April, issuance of the vaccine was temporarily paused to look into reports of rare blood clots forming in a small number of recipients. The pause slowed America's vaccine rollout, forcing hundreds of thousands of vaccine appointments to be rescheduled.
The Centers for Disease Control and Prevention (CDC) initially recommended states prioritize health care workers and residents and staff of long-term care facilities — where a third of the nation's more than 580,000 COVID-19 deaths have occurred. Most followed those recommendations, though Florida and Georgia listed adults 65 and up in their top priority group, known as "Phase 1a" in many state vaccine plans.
Vaccine distribution after Phase 1a is where many states diverged. The CDC and the Biden administration recommended that vaccines gradually become available to older adults, since adults 65 and up account for 8 in 10 deaths attributed to COVID-19. The CDC and the White House also recommended states prioritize certain types of essential workers like grocery store employees and teachers.
But the actual vaccine plans were drawn up by individual governors and state health officials, who did not follow CDC recommendations to a T.
Most states grouped older adults in their second phase of vaccine distribution, referred to by many states as Phase 1b. But age brackets varied by state, feeding confusion about who could get vaccines and when they would be more widely available.
And even in states that have for weeks offered vaccines to their older residents, getting an appointment is still a challenge. "There are complexities involved, and there's going to be some learning as we go here," says Megan O'Reilly, vice president for federal health and family issues at AARP, which has been fighting for older Americans to be prioritized in getting COVID-19 vaccines.
First in line: 24 million Americans
The CDC estimated there were 21 million health care workers and 3 million people in congregate community settings such as nursing homes and assisted living facilities who needed to be vaccinated when shots were first made available. More than 484,000 health care workers are confirmed to have contracted COVID-19, along with more than 1.4 million long-term care residents and staff, according to data from the CDC and the Kaiser Family Foundation.
Millions in these vulnerable groups have already been immunized.
Most residents and staff of long-term care facilities were vaccinated through a federal program that contracted with CVS and Walgreens to administer the two-dose COVID-19 vaccines at free on-site clinics. Nationally, almost all long-term care facilities have finished or are close to finishing their final clinics.
Nationally, almost all nursing homes, which were given first priority, have completed their vaccination clinics. Most assisted living and other long-term care facilities are conducting their final clinics. All vaccination clinics are slated to wrap up by late March.
Many states prioritized nursing home residents and staff alongside assisted living and other types of long-term care in Phase 1a. But some states, like Maryland, group nursing homes in Phase 1a and other assisted living facilities in Phase 1b.
How quickly are vaccines being shipped out?
The federal government is shipping more doses to states and to certain cities, such as Philadelphia and New York, each week. And it's sending vaccines directly to certain pharmacy and grocery chains. Retail partners vary by state but include certain Walmart, CVS, Costco, Rite Aid and Kroger locations. And the administration in late January announced plans to purchase an additional 200 million vaccine doses from Pfizer and Moderna, with the goal of vaccinating 100 million people in Biden's first 100 days and 300 million people by the end of the summer. Those vaccines each require two doses.
When March began, just over 50 million Americans had received a first dose. That total tripled over the next several weeks, climbing to nearly 100 million by the end of March and nearly 150 million by early May.
Where can I get one?
As vaccines have become more available, states are expanding options for where to get a shot, which were initially available only in certain hospitals, local health departments and long-term care facilities. California has opened mass vaccination sites at the Disneyland Resort in Anaheim and Dodger Stadium in Los Angeles. Massachusetts is using Gillette Stadium, home to the New England Patriots.
The Biden administration has tasked the Federal Emergency Management Agency (FEMA) with setting up federally backed community vaccination sites across the country. More than 30 pilot vaccination sites are open, or will open soon, in California, Florida, Georgia, Massachusetts, Michigan, North Carolina, New Jersey, New York, Ohio, Pennsylvania and Texas. The administration is also calling on retail pharmacies to begin offering walk-in appointments, making it easier for people to get vaccinated quickly.
Information about where to get a vaccine and who is eligible to receive one is listed on most state public health websites. Many states have also set up toll-free vaccine information numbers.
'Vaccines are useless if they are not used'
Willingness to get a COVID-19 vaccine has increased over time, but recent polling shows that not everyone wants one. A study published in March by the University of Michigan found that 71 percent of people between 50 and 80 years old had either already been vaccinated or plan to get vaccinated as soon as possible. That's up significantly from October but means that nearly 3 in 10 older Americans still have reservations.
"Vaccines are useless if they are not used to vaccinate people," says Moncef Slaoui, a vaccine expert and former chief scientific adviser to Operation Warp Speed under former President Donald Trump.
If enough Americans do get vaccinated, the country is likely to return to "a considerable degree of normality" in the second half of 2021, says Anthony Fauci, M.D., director of the National Institute of Allergy and Infectious Diseases at the National Institutes of Health.
Still, vaccine efficacy depends in part on widespread uptake. "What would be really a terrible outcome is we have vaccines that are shown to be really good, and yet half of Americans decide not to use them," Francis Collins, M.D., director of the National Institutes of Health, told AARP during a recent tele-town hall. "And then this epidemic could go on and on and on. We need to get about 90 percent of the population immunized if we're going to basically tell this virus that it's done."
https://www.aarp.org/health/conditions-treatments/info-2020/coronavirus-vaccine-distribution.html?intcmp=AE-HP-TTN-R3-POS1-REALPOSS-TODAY